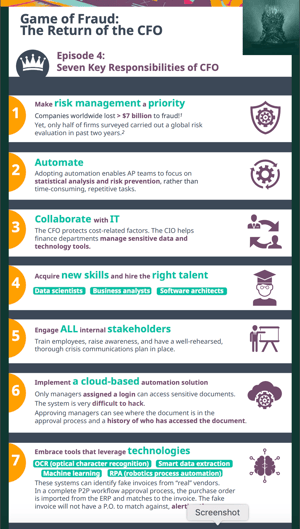 Over the past few months, we've written a lot about The Game of Fraud—beginning with a comprehensive researched-based white paper—and how CFOs can lead the charge in the fight against fraud and fraudsters who are more aggressive and technologically proficient than ever.
In this blog series, we'll drill down into each of the seven strategies CFOs can adopt to win The Game of Fraud.
1: Make Risk Management a Priority
Chief Financial Officers have always played a strategic part in managing risk, notably regarding "their advisory role and position as a stakeholder; their ability to clarify and facilitate decision-making; and their in-depth knowledge of organizations through financial data analysis."
Today, they must adapt all these skills to face new and more deadly forms of fraud, extending beyond the traditional types such as internal embezzlement and industrial espionage.
Companies worldwide lost more than $7 billion due to fraud last year!2 However, despite these alarming figures, a report by PricewaterhouseCooper confirms that only half of the companies surveyed say that they carried out a global risk evaluation regarding fraud over the past two years. And the Institute of Finance and Management (IOFM) reports that only nine percent of accounts payable leaders identify security and compliance as their top improvement priority. These figures are far too low given the many financial and reputational downsides of falling victim to fraud.
Firms should make risk management and security against fraud a priority and communicate your commitment to all internal stakeholders by raising employee awareness and providing training to all departments and every hierarchical level within the company. This way everyone knows the role they play in identifying warning signs and exposing potential fraud.
Beyond the understandable peace of mind that security brings and assurance that the company will not (or will no longer) become the victim of attempted or successful fraud, security for processes represents a competitive advantage due to its reinforcement of the company's reputation for reliability, reassurance for commercial partners, and more.
The next strategy in Part 2 of this series: Automate Your Processes
For an illustrated guide to winning at the Game of Fraud, downloadthe four-part infographic series.
1PwC, 2019 Priorities for Chief Financial Officers
2ACFE 2018 Report to the Nations Global Study on Fraud and Abuse