You've wrung out as much inefficiency as you can from your manual processes. And you've realized that the only way to keep up with the mounting piles of invoices, reboot the morale of your AP department, and save money for your department and your company, is to automate. But how do you know where to start in choosing the right invoice and payment processing (AP) solution?
Based on our whitepaper, 16 Very Effective Ways to Mess Up Your AP Automation Project, we have developed a comprehensive checklist to help you avoid "messing up" when it comes to choosing the right provider. We start with Step 1: Preparation, where we take you through things you can do to prepare for the process of investigating solution providers.
Part of the internal assessment of your current AP workflow is to determine if the solution you choose should be cloud-based (a server hosted in the cloud) or on-premise (application is installed and maintained on the company's internal servers).
This blog series will give you a good starting point to understand the basic differences between the two.
Cost Effectiveness
Cloud-based: Very cost effective: There is no IT cost to implement and you can find solutions like Yooz that offer subscription pricing where you only pay for the functionalities and features you need.
On-premise: There is generally a very high up-front implementation cost, which can be prohibitive for small- and mid-sized firms.
Speed of Implementation and Training
Cloud-based: Simple set-up that lends itself to a fast implementation, and efficient training of staff. Staff can start realizing benefits of automation almost immediately.
On-premise: A complex set-up leads to a long implementation and complicated training of staff.
Security
Cloud-based: Individual logins for approved users which serves as a private space into a dedicated cloud provider, ensuring maximum security.
On-premise: In-house data storage is less equipped to reduce the chances of security breaches.
Customization
Cloud-based: Flexible in serving unique needs and customizations that allow for scaling. There is no need to purchase and install additional servers to support growth of your company; this is handled automatically by the software provider
On-premise: Tailored solutions that are customized on-site allow for more complex customizations and scalability.
Pricing Model
Cloud-based: All inclusive, subscription-based, and many solutions allow users to only pay for what they need and add features as they grow.
On-premise: One-time fixed cost—typically high—and annual maintenance and support fees.
Updates
Cloud-based: Frequent updates with new features added on a regular basis.
On-premise: Additional costs and time for routine maintenance and upgrades.
At Yooz, we provide a cloud-based AP automation solution, and we talk a lot about how much more secure sensitive documents are in the cloud as one of the primary benefits. In
Now we're focus specifically on the benefits of cloud-based AP automation solutions.
Give yourself a paper cut: In a manual process where data is entered from a paper document, and then that same document is routed around for approvals, it can get lost, or worse fall into the wrong hands. With a cloud-based AP automation platform, as soon as you scan the document into the system it moves securely through the workflow and then is stored securely in the Cloud. The original document can then be shredded.
"What's your password?": Documents stored in the Cloud can only be accessed by those with login credentials, whether it be to view or approve. Users are also able to see the history of the document, who has accessed it, who has approved, where it is in the workflow. No more paper documents exposed at all stages in the process. No more lost documents.
Authorized Personnel Only: Access permissions can be set by department managers according to the dollar amount and/or sensitivity of the documents, so only those approved will virtually "touch" the document.
Seamless integration with ERPs: Once the document is in the automated system, it goes all the way through the process electronically, including being exported to the secure ERP, which offers another level of security. Pro tip: Make sure that whatever solution you are considering seamlessly integrates with your ERP.
With a cloud AP automation solution like Yooz, your success will hinge on these six critical aspects that should be present and work together perfectly for a transparent, secure, and seamless workflow.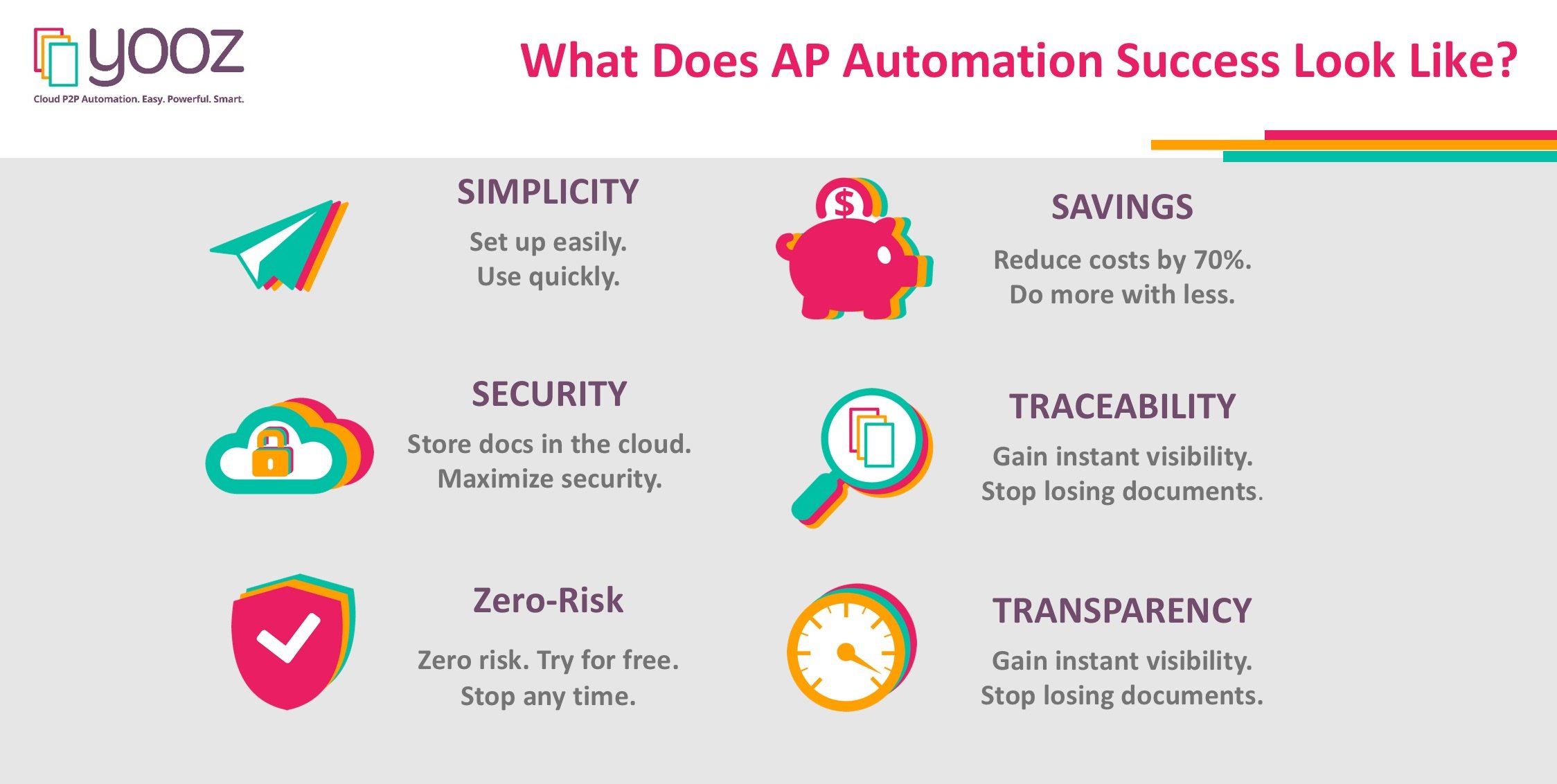 What do you say? Want to join us in the Cloud? We'll provide the oxygen masks!