This article was published in the National Association of Enrolled Agents March/April 2020 issue of the EA Journal. For access to the complete issue visit https://www.naea.org/publications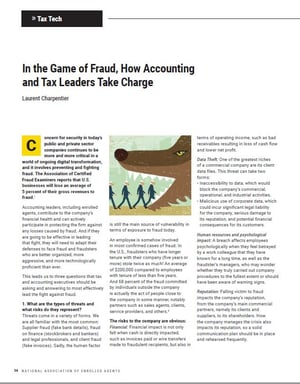 Concern for security in today's public and private sector companies continues to be more and more critical in today's world of ongoing digital transformation, and it involves preventing and fighting fraud. The Association of Certified Fraud Examiners reports that U.S. businesses will lose an average of five percent of their gross revenues to fraud.
Accounting leaders, including enrolled agents, contribute to the company's financial health and can actively participate in protecting the firm against any losses caused by fraud. And if (s)he is going to be effective in leading that fight, they will need to adapt their defenses to face fraud and fraudsters who are better organized, more aggressive, and more technologically proficient than ever.
This leads us to three questions that accounting execs should be asking and answering to most effectively lead the fight against fraud.
What are the types of threats and what risks do they represent?
Threats come in a variety of forms. We are all familiar with the most common: Supplier fraud (fake bank details), fraud on finance (stockbrokers and bankers) and legal professionals, and client fraud (fake invoices). Sadly, the human factor is still the main source of vulnerability in terms of exposure to fraud today.
An employee is somehow involved in most confirmed cases of fraud. In the U.S., fraudsters who have longer tenure with their company (five years or more) stole twice as much! An average of $200,000 compared to employees with tenure of less than five year.1 And 68 percent of the fraud committed by individuals outside the company is actually the act of people close to the company in some manner, notably partners such as sales agents, clients, service providers, and others.
The risks to the company are obvious:
Financial: Financial impact is not only felt when cash is directly impacted, such as invoices paid or wire transfers made to fraudulent recipients, but also in terms of operating income, such as bad receivables resulting in loss of cash flow and lower net profit.
Data Theft: One of the greatest riches of a commercial company are its client data files. This threat can take two forms:
Inaccessibility to data, which would block the company's commercial, operational, and industrial activities.
Malicious use of corporate data, which could incur significant legal liability for the company, serious damage to its reputation, and potential financial consequences for its customers.
HR and Psychological Impact: A breach affects employees psychologically when they feel betrayed by a work colleague that they have known for a long time, as well as the fraudster's managers, who may wonder whether they truly carried out company procedures to the fullest extent or should have been aware of warning signs.
Reputation: Falling victim to fraud impacts the company's reputation, from the company's main commercial partners, namely its clients and suppliers, to its shareholders. How the company manages the crisis also impacts its reputation, so a solid communications plan should be in place and rehearsed frequently.
Why invest in fraud prevention?
Beyond the understandable peace of mind that security brings and assurance that the company will not (or will no longer) become the victim of attempted or successful fraud, security for processes throughout the finance and accounting departments represents a competitive advantage due to its reinforcement of the company's reputation for reliability, reassurance for commercial partners, and more.
What are the most effective tools to mitigate—with the goal of preventing— fraud?
Finance and accounting automation technologies that leverage AI particularly address the financial risk and contribute to protecting the sensitive data housed in these departments by creating and organizing a rigorous process that includes complete visibility, traceability, and security that comes with cloud technology.
The most advanced solutions incorporate four technologies that are critical to combating fraud:
Big data enables handling vast volumes of information, often in real-time. Given the amount of data that investigators and auditors need to sift through to find fraudulent patterns, an integrated big data and search architecture enables the fraud detection effort to be more scalable, faster, and more accurate.
Machine learning is a component of AI in its broader meaning, creating and using algorithms to obtain predictive analysis based on data. Together, they make it possible for the company to take further steps in combatting fraud, such as risk scoring its clients and suppliers.
Digitization, or automation, technologies that leverage AI are another essential tool and an important part of any effort to mitigate risks.
Cloud solutions ensure that only managers assigned a login can access sensitive documents. They are also very difficult to hack. Additionally, approving managers can see where the document is in the approval process and a history of who has accessed the document, allowing an additional check and balance.
Raising employee awareness is one of the most important aspects of fraud prevention. Providing training to all departments and every hierarchical level within the company, including top management, is important so everyone knows the role they play in identifying warning signs and exposing potential fraud.
It is also important to implement communications that are adapted to each different stakeholder group within the company that reflect the company's commitment to fraud prevention and identifies the consequences of not taking fraud prevention seriously as well as the benefits of executing well-defined fraud prevention plans and practices.
The Bottom Line
There is too much at stake for organizations to leave themselves vulnerable to fraud. Accounting professionals should implement automation solutions that include advanced technologies and layers of security in lieu of manual, paper-based processes to provide the upper hand against bad actors.
1ACFE 2018 Report to the Nations Global Study on Fraud and Abuse
2Euler Hermes-DFCG study, 2018.1