In Part 1 of this blog series we introduced the trends in invoice workflow automation ie AP automation that indicate that finance and accounting professionals are not only adopting AP automation at a growing rate but generating revenue for their companies through increased efficiencies.
In Part 2, we look more specifically at how AP automation is evolving based on the new Levvel Research 2019 Payables Insight Report and how Yooz is keeping up with—even staying ahead of—the technology curve.
In many areas, mid-market firms are still experiencing the same pain points as they were in recent previous years, according to the Report. Manual data entry and inefficient processes and manual routing of invoices for approval still top the list, as they did in the survey conducted for the 2018 report. This falls in line with the indication that firms are still receiving nearly half of their invoices in paper form rather than electronic or EDI.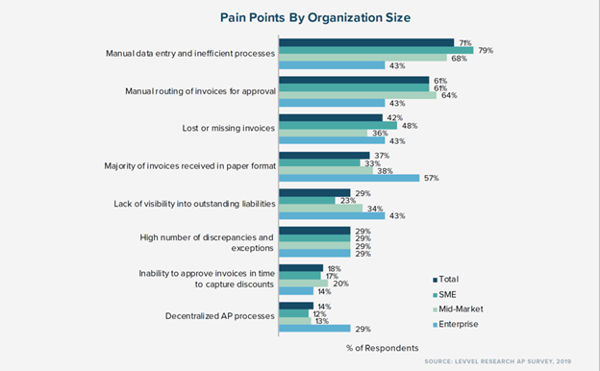 And mid-market firms are eliminating these pain points by automating AP workflows, creating a touchless invoice and payment processing environment.
It's working. Organizations are experiencing reduction in paper invoice volume and quicker approval of invoices as a result of automating.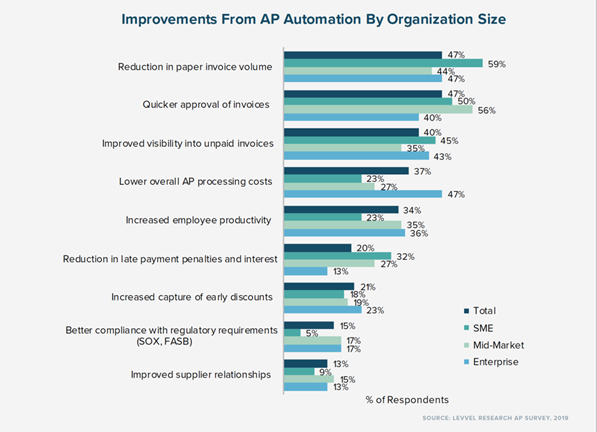 One thing that is dramatically on the upswing is cloud technology in AP automation. According to the 2019 Report, awareness of the value of cloud-based AP automation tools is growing, as is demand.
They are the most versatile and scalable options available today for organizations across revenue segments, business types, and industries because they are increasingly flexible, dynamic, and affordable.1
The adoption of cloud-based automation tools has greatly increased in 2019 over 2018—more than doubled, in fact, from 22% to 49%.
One of the trends that the Yooz cloud-based AP automation solution has been on the forefront of compared with other providers in the market ("the other guys"), is on the importance of OCR (optical character recognition) to intelligently automate data capture. More than half of the survey respondents in mid-market firms claim OCR as an important feature of the AP automation tool. OCR, powered by AI, is inherent to the Yooz solution, where many providers claim to have OCR technology, but in reality outsource to a third-party. (Learn more about debunking the myths of OCR in this article.)
In Part 3 of this blog series, we'll explore more features and functionality that are most important to users.