In Part 1 of this blog series we introduced trends in invoice and payment processing that indicate that finance and accounting professionals are not only adopting AP automation at a growing rate but generating revenue for their companies through increased efficiencies.
In Part 2, we looked more specifically at how AP automation is evolving based on the new Levvel Research 2019 Payables Insight Report and how Yooz is keeping up with—even staying ahead of—the technology curve.
Next, we'll continue our breakdown of the Payables Insight Report with an overview of technology trends that are driving expectations of finance leaders as they explore options for invoice and payment processing (AP) automation solution providers. It starts with finance and accounting professionals in all sizes of organizations being more aware than ever of intelligent technologies in relation to AP automation—one-third of those surveyed, in fact2.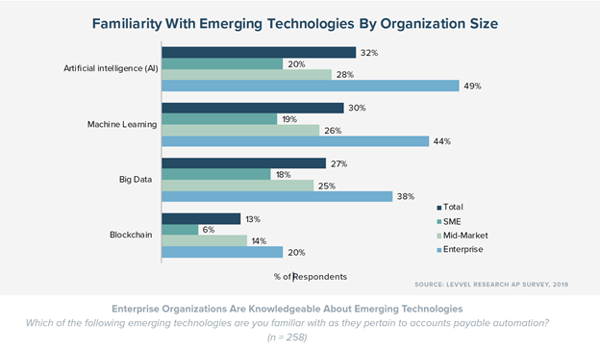 OCR:
One of the trends that the Yooz cloud-based AP automation solution has been ahead of is developing OCR (optical character recognition) / automated data capture as a critical technology feature of our platform. More than half of the survey respondents in mid-market firms claim OCR as an important feature of the AP automation tool. OCR, powered by AI, is inherent to the Yooz solution.
A key feature of OCR that contributes to the ease-of-use is advanced data entry technology. Combined with machine learning (ML) capabilities powered by AI, the system intelligently fills in, for example, recurring fields from similar vendors or invoice information such as date or payment type. ML capabilities improve over time as an algorithm learns the invoicing patterns of an organization. In other words, the system gets smarter the more you use it! In this way, OCR can ensure a high level of accuracy.¹
And our technology is even more advanced, offering the next layer, smart data extraction, which understands and processes the text from the OCR to transform it into relevant data. As many of you are exploring AP automation providers, you may ask, "Do you have OCR technology?" Good question. But what you really want to know is if the solution has a complete technology, combining OCR, smart data extraction, and machine learning.
Beware of providers that claim they use OCR, but then apply human extraction, outsourcing to a third party—also called third-party verification. Sometimes the data entry is done by an outsourced firm and takes time as the data is being populated by people, typically 24 to 72 business hours. Kind of defeats the purpose of moving from a manual AP process to an automated process to save time, right?
(Learn more about debunking the myths of OCR in this article.)
PO Matching: Another crucial capability of advanced AP automation—also called 'invoice workflow automation' or IWA—is purchase order (PO) matching, which involves automatically linking invoices to purchase orders or other receipt documents.
Then the system routes the invoice to the appropriate approval chain based on predefined business rules. The most advanced solutions take this one step further, providing field-level matching, meaning that they match specific characters in invoice line items with their counterparts in the POs.
Reporting and Analytics: Whereas in recent years the focus on AP automation was in making the AP process more efficient, saving time and money along the way, now reporting capabilities in AP automation solutions like Yooz help finance leaders and their teams be more strategic. Reports summarize spend activity and help managers and the C-suite to identify spending trends, optimize spend policies, and improve efficiency.
Mark Brousseau, consultant, Institute of Finance Management spokesperson, and speaker says that if finance leaders "can get at the information and data housed in their AP departments, they can use it to support better management of their working capital, mitigate potential risk, and make more strategic decisions." I recommend you take 14 minutes and listen to a recent podcast where Mark expands his thoughts on the AP department of the future.
Our final post in this series will explore exactly how stakeholders across the organization will benefit from today's smart AP automation solutions.