The process of walking over to a scanner to manually scan invoices, upload them onto your device, manually insert and validate the data, and finally communicate with either the accounting or Enterprise Resource Planning (ERP) system isn't just old-fashioned; it's ancient and almost completely obsolete. It's also incredibly time-consuming, occupies staff resources that could be used for more important tasks, and increases the chance of mistakes entering the fold.

However, despite automated invoice processing software tools being increasingly available for use in the market plus the ever-evolving requirements of the Making Tax Digitial (MTD) initiative, the manual method is still the typical situation found in many businesses today. Accounts payable (AP) teams are still using the traditional method of manually scanning invoices, entering relevant data - VAT numbers, supplier or client information, total price of goods etc. - into specific fields on a spreadsheet item by item, and then sending it off for approval. With any luck the information on the invoice matched the original receipt of goods and purchase order number, but even so, it could take days or even weeks to approve the final payment.
Now imagine that you're having to deal with hundreds or even thousands of invoices coming into the business every month. Under these circumstances, the process of manually scanning, handling, and managing invoices goes from a simple task to a sheer mountain of work. Tasks that are constantly repeated day after day, taking up hours of the staff's time without guaranteeing either accuracy or security.
In fact, a recent survey of finance leaders in the UK found that one-third (35%) felt time-consuming processes were the biggest problem related to manual accounts payable tasks, while 17% of companies said they spend more than 100 hours per month processing supplier invoices. Issues such as the manual validation of invoices and a reliance on the use of paper documents that need to be printed and shared across the business for authorization result not only in delays but also a risk of errors, especially across multi-site organizations. In short, the issues surrounding invoice capture are much bigger than businesses currently think.
What is invoice capture software?
Invoice scanning used to mean simply digitizing a paper-based invoice through use of an actual electronic scanner. However, today businesses hardly ever use hardware scanners anymore (usually they simply don't even have one at hand) but instead take high-resolution photos or receive documents in some kind of electronic format. Unfortunately, even this progression wasn't enough of a solution to solve the problems resulting from the manual accounts payable practices. What was needed was some type of an automated step in the invoice capture process, one that eliminated the negatives of manual processing by automatically gleaning data from an invoice. One that would speed up processing time while becoming more accurate. This step became invoice capture software.
The use of an invoice capture software solution helps with the first process for AP teams of invoice data extraction - taking information from paper or digital documents. This is typically done by integrating and using optical character recognition (OCR) technology in the software, which scans documents (PDF, handwritten, etc.) and turns the information into digitally readable text that can be used, stored, and analysed in a business' ERP or accounting system. Even better, hanks to the use of Machine Learning (ML) and Artificial Intelligence (AI), invoice capture software is able to "learn" and adapt so that accuracy (and therefore speed) is increased. No need to outsource the scanned data to any external party and wait days for validation; the invoice capture software solution can do everything in real-time. Only when supplier and vendor invoices are available in a digital format can businesses truly streamline their invoice processing and save time, costs, and resources.
The use of invoice capture software may make the entire invoice process sound easy and quick (and to a certain extent it alone is a great improvement), but really it's just an important first step in fully digitizing the AP department and creating a fully automated, hands-off approach. After all, a fully automated process ensures that there is no possibility of manual error later in the invoice workflow and no need to outsource the invoice scanning data to any external party and wait days for validation.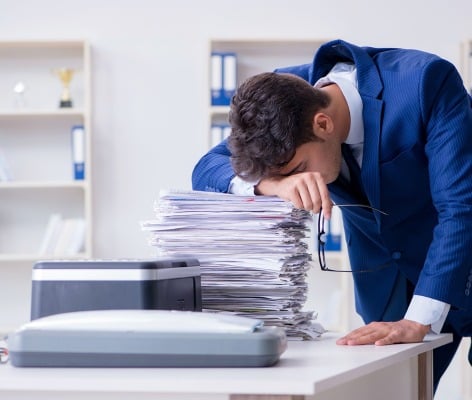 The benefits of using an automated invoice capture software solution
While time saving and eliminating error are certainly key features, they are certainly not the only positive to automating the process. There is no question that making the switch to an automated invoice capture software solution offers several great advantages beyond speeding up the process. Automating invoice capture offers significant benefits by reducing the possibility of human error, lost documents, late payments, and fraud by providing better reliability, accuracy, and security. Let's explore some of these in more detail.
First is time. Automating the crucial first step of invoice capture has provided a saving grace for AP teams, decreasing the time taken to manually process invoices while providing better reliability, accuracy, and security. For example, according to one report, UK businesses with more than 50 employees process around 1,500 invoices every month on average, taking around 43 hours per month just to manage the invoice approval process. Now compare this with automation, where invoice capture software offers time reductions of up to 30% and processing time is counted in seconds and minutes instead of hours (or days, or more). In addition, remember that as the technology utilizes Machine Learning (ML) and Artificial Intelligence (AI), the software is constantly learning and improving the more invoices that it processes.
Second, the use of invoice automation is a cost saver. In fact, the move to an automated invoice capture software solution can also lead to significant cost savings of around 50-75% when compared to manual processing. For example, whereas manually processing a paper invoice would typically cost a business around £7, automation can reduce this to around £2 per invoice processed. For businesses processing hundreds or thousands of invoices every month, the savings can quickly add up and provide a very healthy return on investment (ROI).
Third, in terms of compliance, using an automation solution create a complete audit trail of invoices, payments, and financial documents that are need to keep businesses compliant and secure. This digital trail includes eliminating any of the unnecessary confusion resulting from manual processing, specifically the complications of being able to quickly work out who created, managed, and approved certain invoices (especially when dealing with multiple suppliers, locations, and a mixture of paper and digital documents).
Fourth, one of the best benefits for accounts payable departments today is the ability for an invoice capture software solution to automatically "pick up" invoices and start processing them without any manual intervention from staff. There are no delays, and nobody needs to be physically present. For example, when an invoice is received via email, the software automatically sends it into the accounting or ERP system to be scanned, recorded, and analyzed - perfect for teams that work in different locations or over different hours from one another.
Finally, the benefit above - the solution's automatic "pick up" - helps to improve relationships both inside and outside of the business itself. While CFOs and financial leaders gain real-time, accurate data in real-time to use for better business forecasting, suppliers and vendors also gain from a more streamlined process with faster invoice approvals without the risk of late payments. The use of invoice capture software also significantly increases the productivity of accounts payable staff, with repetitive work replaced for more strategic, high-value tasks that require critical thinking and a more human touch.
You can read more on the benefits of invoice capture software here or reach out to speak directly with an automation specialist today.