At the risk of sounding trite, it's the best and worst of times to be in the automotive business. Customers have become more cost-conscious and demanding when visiting dealerships, both for shopping for a new or used car and when making service appointments to keep their own wheels on the road longer. This is only expected to increase as people increasingly search for ways to cope with inflationary pressure.

Now add to that manufacturing and supply issues such as chip shortages that stall production and keep dealer lots precariously empty of or endless waitlists for new (and used) vehicles. The run-on electric vehicles in an attempt to lock in government rebates, lower tax costs, and stave off rising gas prices. Even the constant threat of inflation. Consider all these together and it's clear that running a business today times requires a smart, information-driven approach to stay efficient and competitive.

That approach is automotive accounts payable automation.
How Accounting Software Can Help the Automobile Industry Answer Key Questions
What do your customers, suppliers and your own team need to achieve a smarter, more information-driven approach? The answer is more and real-time visibility around key questions that define the daily routines of the automotive industry:
What new vehicles are available where and when?

What's the status of pre-owned vehicles to meet customers' demands?

What uncertainties in the supply chain may impact your shop, for instance a lack of spare parts?

How can you streamline the financing process when customers get anxious about their cash position or credit?

How easy is it to book - and on the shop's end to track and bill for - service appointments?

How can the overall customer experience be updated to be more intuitive, proactive, and digital - ideally mobile?

How can you reduce processing costs, cycle times and errors or mistakes when it comes to invoices?

What tools, finally, does the team at the shop and in the back office have at their disposal to make all these things happen in as little time and at the lowest cost possible?
Operational excellence in uncertain times means preparing for and responding to those changes in the business environment in a fast, secure, and scalable way. Improvements you make in the accounting department and its workflows can have far-reaching consequences throughout the entire organization and for the bottom line.

Having a better workflow can determine whether a dealership or repair shop is able to pay every invoice on time, every time; avoid late fees and lock in early-pay discounts; reduce the number of exceptions and errors that require costly manual corrections; and improve overall cash management to optimize working capital and planning.
A Power Tool in the Cloud: Auto Dealer Accounting Software
Having targeted, state-of-the-art accounting software for automotive industry needs gives car dealerships a powerful tool to rev up their engine. It becomes even more effective when you add in smart accounts payable automation and tight integration with an existing Enterprise Resource Planning (ERP) platform or Dealer Management System (DMS).

Going one step further, a cloud-based accounting software platform works for both small and large businesses, no matter if they are multi-brand dealerships with multiple locations in a region or state, independent repair shops, or car lots. At the end of the day, they all face the same tasks and challenges that can be improved with digitalization and automation.

These accounting software platforms are specialized, extending the more generalized capabilities of existing ERP solutions designed for the automotive industry. These ERPs offer a variety of crucial features such as:
Inventory management
Sales reports
Finance management
Document organization
Storage of customer information
Managing quotes and estimates
Lease Tracking
Smart tools for forecasting.


One Central View for All: Accounting Software Keeps Everyone In The Loop
A cloud-based accounting system pulls in all those information bits and serves as a centralizer for information without taking away from individual locations. Since all team members can tap into the same system - from anywhere, at any time - to get their work done, they all stay in the loop in real time.

The workflow of AP automation creates a ground truth from the moment a document such as an invoice or purchase order comes in, regardless of the format in which it arrives. At the moment of capture, paper invoices, faxes or documents as email attachments are either scanned or converted into structured information that will make its way through the system fast.

Machine-learning algorithms extract all relevant data, assign the correct GL codes, and follow a predefined sequence of steps for timely review and approval. Team members have their hands free to either focus on important customer or supplier relationships or to deal with more complex exceptions that the software has automatically flagged.

What's more, security is built in. Three-way matching is a standard procedure to avoid overpayments, duplicates, or fraud before they can have a negative impact on the whole organization's cash position.
On the Road, In the Know: Why Accounting Software Makes You More Mobile
There's another advantage to cloud-based auto accounting software. Mobile (both traveling or remote workers) always have access to the same information as their desk-bound colleagues. Reviews, approvals, and submissions of new purchase orders (POs), notes of goods received, invoices, or expenses can be securely done from a mobile device, for instance for car transports between locations.

Digitalization means that far-flung dealerships no longer need to send envelopes or boxes with documents around anymore, hoping they arrive on time and at the right recipient. Processing invoices and closing the books becomes a matter of clicks.

Intelligent rules and permissions that each dealership or shop can set and tweak make sure the right person can do his or her part at the right time, moving invoices along in record time, from capture to setting up payment. A flexible approval matrix guarantees that invoices arriving from a certain location or vendor, or those above a certain amount, are routed for approval to a predefined person or group of people.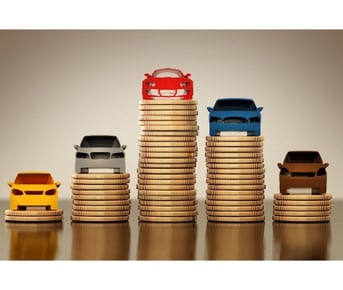 Save Up to 80% Per Invoice: How Dealers and Shops Can Save With Accounting Software
Cutting processing costs per invoice by 80% and slashing cycle times from weeks to days or hours is one thing. Automating payments is another key benefit of AP automation. Just like customers expect an easy way to find the car they like or book the service they need and then pay for it the way they prefer, so do vendors and suppliers. Keep them happy by letting them know when and how you'll pay them, and you remove a major stress factor for running a dealership or repair shop.

Payment automation adds visibility and several layers of security to the accounting process. It lets you onboard vendors with just an email address and offers them advanced digital payment options such as virtual credit cards.

It puts your business on the right track to pay on time, become a reliable business partner and leave the competition in the dust. In addition, ePayables such as virtual credit cards empower the shop with a detailed digital audit trail, enhanced security and valuable cash-back for each invoice paid.
Step On the Gas With AP Automation Plus ERP/DMS Integration
Those are some of the advantages of accounts payable automation in a nutshell, but when it comes specifically to accounting software for the automotive industry, what should automotive players look for when it comes to ERP integration?

What's needed to win the race to profitability is a gapless workflow. An end-to-end, integrated process that covers the entire value chain from purchase to payment and where information between the existing dealer management system and the AP platform flows fast and freely:
Pay an invoice and it should be reconciled as "paid" in your ERP system without any human handholding.
Create a PO and it should be automatically matched with the incoming invoice, including verifying all its details. Again, without human intervention.
Document the receipt of vehicles and parts and that information should find its way into both systems without any delay.
Seamless integration ensures that both the staff in the back office and their colleagues working up front have the information they need to create the optimal customer experience.
Why It's Time to Test Drive Intelligent Auto Accounting Software
Cost pressure, after all, doesn't just drive consumer decisions. They're also front and center for the automotive industry itself. When the road gets rough, it's crucial to become more efficient, productive, and resilient while dealing with supply chain issues, delivery delays and potential talent shortages. They all affect the finance department as well as the performance of the sales, financing, and repair team.

Investing in intelligent AP automation that supercharges your existing accounting software or dealership management system offers too many benefits to wait. It's time for a test drive to see what it can do for your business.