As we approach Summer, many of us have the beach in mind, whether we're lucky enough to live near one, or vacation at one. And with the beach and the ocean come surfers. There are as many different types of surfboards as there are people who use them, but for purposes of this blog series we'll focus on two particular styles: the long board and the short board. And we'll use the analogy for invoice and payment processing (AP) automation, where there are long term, sustainable benefits and short term positive results.
One of the most compelling opening remarks in this year's Levvel Research 2019 Payables Insight Report lies in the report's executive summary, which sets the stage for how a smart AP automation solution like Yooz will benefit companies in the long run:
"One of the most effective ways to improve an organization's bottom line is to decrease the cost of operations that do not directly contribute to profit, redirecting the freed resources towards strategic, profit-generating initiatives. Automating accounts payable (AP) processes is a perfect example of this opportunity, as it not only reduces the footprint of a high-cost administrative department, but it also creates an opportunity to generate revenue through increased efficiency."
Like a surfer on a long board made of modern materials such as polyurethane foam and fiberglass, who is much more able to gracefully navigate smaller waves for a longer period of time, finance leaders who have automated their finance workflows are able to more nimbly and strategically navigate important workplace initiatives such as management of working capital, mitigating potential risk, and making more strategic decisions.
According to the Payables report, smart AP automation solutions "are the most versatile and scalable options available today for organizations across revenue segments, business types, and industries because they are increasingly flexible, dynamic, and affordable."
In the long run, finance leaders are able to go from wondering, "How do we manage this ever-growing pile of invoices?" to asking, "Where do we stand with working capital so we can more accurately forecast cash and manage budgets?" From there, they will dive deeper into strategic game plans for better managing supply chains and finding innovative ways to allocate the cash that has been freed up, such as investing in R&D and new product development. Like the surfer, it's a beautiful thing to watch.
In many areas, mid-market firms are still experiencing the same pain points as they were in recent previous years. The Levvel Research 2019 Payables Insight Report1 reveals that manual data entry and inefficient processes, and manual routing of invoices for approval still top the list, as they did in the survey conducted for the 2018 report. Lost invoices, majority of invoices received in paper format, and lack of visibility into liabilities are not far behind.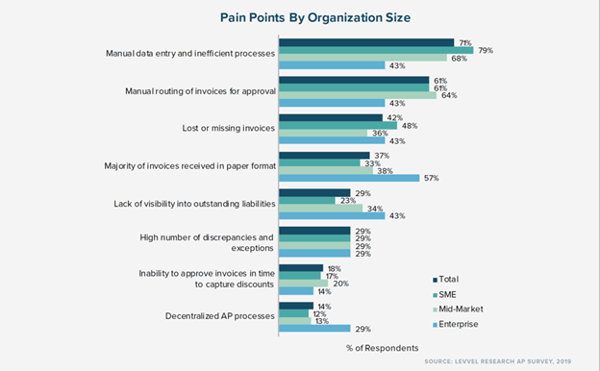 In the very short term, smart AP automation solves for all of these:
Data Entry: A key feature of OCR (optical character recognition) that contributes to the ease-of-use is advanced data entry technology. Combined with machine learning capabilities powered by AI, the system intelligently fills in, for example, recurring fields from similar vendors or invoice information such as date or payment type. Machine learning capabilities improve over time as an algorithm learns the invoicing patterns of an organization. In other words, the system gets smarter the more you use it!
And the Yooz platform's technology is even more advanced, offering the next layer, smart data extraction, which understands and processes the text from the OCR to transform it into relevant data.
Routing Documents for Approval: As stated in the Payables report, the value of cloud-based AP automation tools is growing, as is demand. "They are the most versatile and scalable options available today for organizations across revenue segments, business types, and industries because they are increasingly flexible, dynamic, and affordable."2
Cloud technology allows approving managers to securely access and approve documents from any device anytime. No more lost invoices. Nor more tracking down managers for approvals. And as an added benefit, organizations that are decentralized will immediately save money from no longer transporting documents via courier or overnight delivery services.
Visibility into Liabilities: Finance leaders can see not only where an invoice is in the approval process, but also see a history of who has accessed the document and what was done with it. This not only keeps the workflow moving, but also gives the greatest opportunity to capture early payment discounts when offered, and certainly avoid late payment penalties.
As our surfer friends say, "It will be epic, dude!"