The months of September and October are always very busy for all of us here at Yooz when we travel from coast to coast exhibiting and speaking at finance and accounting conferences and trade shows. But that's okay with us because we learn a lot about how invoice and payment processing (AP) is advancing. We also get to educate finance and accounting professionals about AP automation, hopefully providing some guidance on their respective journeys. But our favorite part connecting with our own Yooz client champions and celebrating their successes and ours.
As the 2019 conference and trade show season comes to a close, we thought we'd look back and highlight our top 10 favorite moments.
TEN: At FSTEC, "where restaurants and tech connect," we cheered for Sweetgreen, Wingstop, and 7-Eleven as they received the Tech Accelerator Award for tech-minded foodservice brands that advance back-of-house innovation, consumer-facing advancements, automation, data usage, and more. Sweetgreen, the fast-casual, better-for-you chain is developing its own software that's focused on customer personalization and deepening its use of blockchain to increase transparency and security of the supply chain. (We share our commitment to both in our blog series on the topic.)
NINE: Yooz COO Laurent Charpentier and Peterson Auto Group Director of Operations Patsy Price addressed a distinguished group of accounting professionals from the automotive industry at Auto Team America and demonstrated how AP automation can save you $10,000 from early payment discounts.
EIGHT: Kristina Costello, project manager at Incubator Finance, a Yooz value-added reseller told us how the Yooz solution benefits firms in all industries: "We serve a variety of clients from software to construction.
The Yooz system is very flexible. It can handle the entire workflow from purchasing to payments in a very efficient manner."
SEVEN: Carla Lottie, accounts payable manager, Liberty Fund talked about how Yooz got her team out from underneath piles of paper. "Paper was everywhere! Our whole AP process was slow and cumbersome." She goes on to describe life after implementing Yooz.
"We got rid of three rooms of file cabinets! Not only that, we've eliminated data entry mistakes due to human error. Automation is a must!"
SIX: Here at Yooz, we take security very seriously—download our whitepaper, Game of Fraud—so we were happy to hear Mark Polino presenting on the topic at the Microsoft® Dynamics Great Plains User Group (GPUG) conference. "Internal threats are bigger than cyber security. 80% of fraud is internal. The average cost of a fraud incident is $130,000, and much higher for smaller firms than for large firms."
Along with his recommendations to improve security he advised, "You need to make things difficult enough for a potential fraudster that they will move on to some other easier-to-attack target."
FIVE: At the Microsoft® Dynamics Great Plains User Group (GPUG) opening session, the speaker presented how Dynamics Communities is "Investing in Our Future," by expanding user groups globally, enhancing member benefits with more educational resources, helping partners (like Yooz!) help the community, and creating a "systems revolution to make it easier to engage, connect, find, and solve."
FOUR: At a Sage Intacct Advantage 2019 (where Yooz was a Platinum sponsor) conference session panel featuring AP automation users, Yooz client champion Audrey Boggs, head accountant at E. Ritter & Company, explained to the audience that, "Yooz is the only AP automation solution provider that offers an API link for real-time uploads and direct feed to the Sage Intacct ERP." And it can all happen anytime from anywhere with the Yooz mobile app.
THREE: Scott Korte, corporate controller for Storage Space, shared, "We were using Bill.com at the time we decided to implement the Sage Intacct ERP; and it just wasn't working for our internal systems. Yooz provides a more seamless integration, a more efficient process, and at a much higher technological level." He goes on, "With Bill.com, everything had to live in their system, requiring a different login and cumbersome access. Now, all invoices get saved in Yooz and Sage Intacct, requiring only one login and easy access from anywhere with the mobile app."
TWO: "We decided to automate because of our decentralized process with invoices coming in from all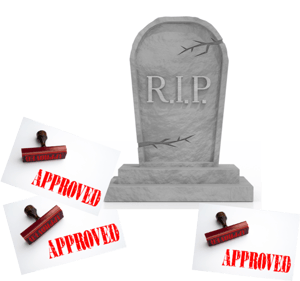 different departments," said Sandy Schaller, Liberty Fund's vice-president and controller and Yooz client champion. "We wanted a more current solution with OCR (optical character recognition) as one of the most important features. The pre-populated fields eliminate repetitive tasks and it's very handy to click within Intacct and pull up an invoice quickly."
The AP staff was so excited they made a ceremony out of the implementation.
During the roll-out everyone brought old AP stamps to the accounting department and dropped them off at the Manual AP tombstone!
ONE: Mellisia James, AdTheorent assistant controller, talks about her experience with Yooz. "We were looking for a provider that would customize their solution to our needs and build around our processes, rather than telling us what we should do! What we found most impressive about Yooz was the people. They really cared about customizing a solution that was right for us.
And now, it's just CLICK away, APPROVE, and PAY!"