"By relying on the statistical information rather than a gut feeling, you allow the data to lead you to be in the right place at the right time."—James O'Shaughnessy, Investor
In Part 1 of this blog series, we started and ended with the importance of data governance—a process to ensure data meets precise standards and business rules as it is entered into a system—in growing companies and the significance of the triangle made up of people, process, and technology.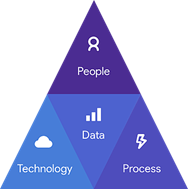 So, what about small- to mid-sized businesses who may not be able to afford an extensive data governance system? Here in Part 2, I answer that question and look ahead to how the Yooz AP automation platform helps provide consistent reporting and facilitate data governance.
Many small- to mid-sized companies feel like a comprehensive data governance initiative is beyond their reach. The only way to have a perfect approach is to invest in a chief compliance officer that has all of the processes and technology tools to give him the insights and visibility (s)he needs. This is not a luxury that all organizations can or want to have.
Consequently, what most organizations do is react to audits and adapt as they learn. And they end up investing by default into combinations of people, process and technology.
There are pros and cons to these choices.
Investing in people and process
Pros: You define and communicate clear process to the understanding of all stakeholders.
Cons: You can't think of everything, and you may not be able to enforce all of the processes you want to put in place. Your people will get frustrated from the lack of technology and start trying to create work-arounds, which may prove to be less than effective.
Investing in process and technology
Pros: Processes supported by technology provide a framework for best practices. If you choose the right tools, your organization will be able to advance at all levels.
Cons: You will have to change your processes and tools as the company evolves, which will be difficult without people driving and supporting the processes and choosing the right tools.
Investing in people and technology
Pros: Your people can choose the most appropriate technological solutions that will best help achieve business goals. As they do so, the people responsible for compliance can look at the embedded features for reporting and actionable insights into the data.
Cons: In the absence of process, it becomes extremely difficult to apply the technology to its best use and achieve the desired business results. Instead, you have to rely on a series of tools and a solid framework that paint a good picture of your organization.
Where does the Yooz AP automation platform come in? Next, in Part 3 of this series, I'll examine how Yooz is the perfect example of a platform that can support small- to -medium-sized companies in their improvement of data governance with its consistent reporting and compliance features, using all three elements of the business intelligence triangle: People, process and technology. All we have to do is start thinking about "framework" as a way to replace "process."